Cupcake
Send honeypancakes a breeding request
Cupcake is a female Yellow Lab Mix born January 28, 2017 and last adopted May 15, 2020.
She is 3 years and 5 months old.
Her mother is Shimmer, owned by PrettyLittlePets
, and her father is Zeus, owned by PrettyLittlePets
, and her 3 siblings can be viewed on her family page
Personality Profile for Cupcake
Intelligence
59

100

142
Obedience
78

122

166
Bravery
60

105

142
Agility
55

102

140
Endurance
60

93

141
I rescued Cupcake from abandonment. She wasn't being cared for, and I always loved labradors. So, I thought she would be a perfect addition to the pack. She's so friendly and sweet! She was originally named Hailey, but I renamed her Cupcake. I thought she could use a name as sweet as her personality. She loves to give kisses and snuggle with me in bed. Her favorite snacks are apples and peanut butter. If you would like to breed your dog with Cupcake, just let me know.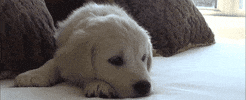 Owned by honeypancakes